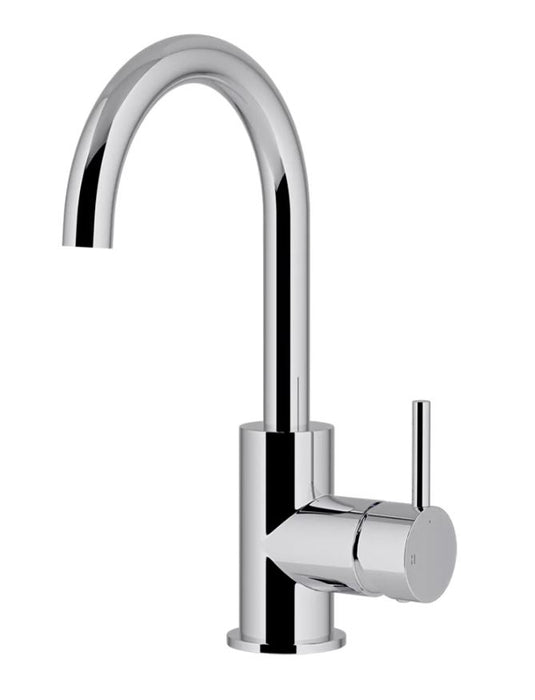 ROUND GOOSENECK BASIN MIXER WITH COLD START
Original price
$299.00
-
Original price
$299.00
ROUND GOOSENECK BASIN MIXER WITH COLD START
SUMMARY & SPECIFICATIONS
– Electroplated Polished Chrome finish
– Cold start cartridge technology
– European components and cartridge
– Solid brass construction
– Watermark approved AS/NZS 3718:25013
– WELS registration No: T42040
– 5-star WELS rating; water efficiency of 6 L p/m
Please note, this product may have a visible Meir or Watermark logo.
Add a new design aesthetic and cost saving technology to your bathroom space with the Gooseneck Basin Mixer by Meir. New to our range, the MB17 deck mounted mixer offers a slimline design with innovative cold start technology to elevate your modern interior and reduce energy costs. The swivel spout offers flexible usage positions to cater to your needs and the handle design allows for flush installation.

What is cold start technology?
Cold Start Technology is the smart way to save water and energy. Meir's innovative cartridge design not only conserves precious resources but also ensures a user-friendly experience. Our Cold Start Technology is designed to make your daily water usage more energy efficient and eco-friendly.

How It Works:
- Advanced engineering: The cartridge is engineered to prioritise energy conservation by delivering cold water for the initial part of your handle rotation. When you first turn the handle, you'll enjoy refreshing cold water without any wasted energy.
- User-Friendly Design: Our ergonomic design places the handle in the full cold-water position when in its standard position. Ensuring the handle is always in the most natural position for those short usage bursts that don't impact energy consumption.
- Gradual Hot Water: Hot water starts blending in only when you pull the lever forward beyond the midpoint. This gradual transition ensures you get the perfect water temperature without any sudden surprises.
- Energy Savings: The technology is not just about convenience; it's about responsible energy usage. To achieve high flow, you'll need to override a slight "resistance bump." This feature acts as a deterrent, ensuring no energy is wasted by drawing water from your hot water system that never reaches your tap.
DELIVERY INFORMATION

Delivery charges will vary depending on the characteristics of the items that you have purchased. You can view our shipping costs in your shopping cart or contact our showroom at sales@designerbathware.com.au to discuss costs with one of our team members.For more information, please see here.