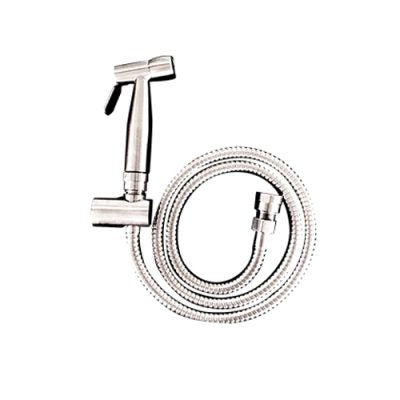 Linkware Trigger Spray Chrome
Original price
$129.00
-
Original price
$129.00
Linkware Trigger spray with anti-burst hose / dual check valve chrome
The Linkware range of trigger sprays are engineered with precision and includes quality fittings, providing a product of the highest quality. Suitable for many applications, with dual backflow prevention and reinforced hose – these items are a standard above any other product being considered for bidet spray applications. (Subject to Australian Standards being met for installation)

WELS
5 STAR 5.0 ltr/min
FEATURES
/  Suitable for use with Dual Control Cistern Cock
/  304 Grade Stainless Steel construction
/  High-quality Chrome finish
/  Dual backflow control valve
/  1200mm reinforced hose
/   For use as a bidet spray, a RPZD that complies with AS/NZS 2845.1 or AS 2845.2 needs to be installed for the application to comply with AS/NZS 3500.1 Water Services Clause 12.2.3.

*Must be installed by a licensed plumber.
*Water supply for this product MUST be TURNED OFF when not in use
WARRANTY
2 Year Replacement*
DELIVERY INFORMATION

Delivery charges will vary depending on the characteristics of the items that you have purchased. You can view our shipping costs in your shopping cart or contact our showroom at sales@designerbathware.com.au to discuss costs with one of our team members.For more information, please see here.